Product Filter
Category
Sets

(1159)

LEGO Parts

(1872)

LEGO Clothing

(1463)

LEGO Books

(249)

LEGO Bags

(90)

Extras

(609)
LEGO Theme
ART

(11)

Architecture

(14)

Avatar

(1)

Boost

(1)

BricQ

(3)

Brick Sketches

(2)

Brickheadz

(16)

City

(318)

Classic

(269)

Creator

(53)

DC Batman

(262)

DC Super Heroes

(16)

DOTS

(56)

DUPLO

(119)

Dimensions

(2)

Disney

(55)

Elves

(1)

Fantastic Beasts

(1)

Friends

(138)

Ghostbusters

(1)

Harry Potter

(66)

Hidden Side

(1)

House

(4)

Icons

(48)

Ideas

(23)

Jurassic World

(112)

LEGOLAND

(7)

Lord of the Rings

(1)

MARVEL

(62)

Mindstorms

(14)

Minecraft

(36)

Minifigures

(39)

Minions

(6)

Monkey Kid

(12)

Nexo Knights

(2)

Ninjago

(473)

Overwatch

(1)

Power Functions

(8)

Powered UP

(19)

SPIKE™ Prime

(8)

Serious Play

(5)

Simpsons

(1)

Speed Champions

(39)

Star Wars

(134)

Stranger Things

(1)

Super Mario

(48)

Technic

(60)

The Batman Movie

(4)

The LEGO Movie 2

(9)

Toy Story 4

(1)

UniKitty

(2)

Vidiyo

(14)

WeDo

(5)

xtra

(7)

More
Less
Price
Under €5

(825)

Under €10

(1869)

Under €20

(3870)

Under €30

(4607)

Under €40

(4811)

Under €50

(4940)

Under €100

(5232)

Under €200

(5373)

Under €1000

(5440)

More
Less
Brand
LEGO

(3823)

LEGO Education

(42)

LEGOwear

(1463)

BRICKshop

(12)

Duracell

(3)

Hubelino

(12)

SBRICK

(1)

Varta

(11)

LEGO IKEA

(4)

Other manufacturers

(62)

More
Less
Age
from 1 years

(4)

from 1½ years

(51)

from 2 years

(107)

from 3 years

(260)

from 4 years

(2317)

from 5 years

(448)

from 6 years

(853)

from 7 years

(364)

from 8 years

(355)

from 9 years

(224)

from 10 years

(213)

from 11 years

(13)

from 12 years

(29)

from 13 years

(4)

from 14 years

(9)

from 15 years

(5)

from 16 years

(38)

from 18 years

(99)

More
Less
Gender
Boy

(1939)

Girl

(429)

Boy/Girl

(1168)
Special
Special day
Black Friday

(1)

Brith Day

(20)

Christmas

(43)

Easter

(6)

Fathers Day

(4)

Halloween

(20)

Marriage

(2)

New Year

(7)

Valentine

(4)

All Options
Hide Options
Discount
Discount: 90%

(2)

Discount: 80%

(7)

Discount: 75%

(1)

Discount: 70%

(3)

Discount: 60%

(2)

Discount: 51%

(14)

Discount: 50%

(146)

Discount: 49%

(6)

Discount: 40%

(3)

Discount: 30%

(64)

Discount: 25%

(103)

Discount: 24%

(1)

Discount: 20%

(353)

Discount: 15%

(264)

Discount: 10%

(39)

All Options
Hide Options
Reviews
5 stars

(2600)

4 stars

(112)

3 stars

(9)

2 stars

(2)

1 stars

(3)

All Options
Hide Options
Stock
Not available

(890)

In Stock

(4545)

Coming soon

(9)

All Options
Hide Options
Year
2022

(672)

2021

(1397)

2020

(700)

2019

(357)

2018

(191)

2017

(135)

2016

(107)

2015

(95)

2014

(48)

2013

(58)

2012

(67)

2011

(54)

2010

(148)

2009

(93)

2008

(83)

2007

(26)

2006

(49)

2005

(26)

2004

(64)

2003

(22)

2002

(35)

2001

(21)

2000

(33)

1999

(42)

1998

(19)

1997

(28)

1996

(29)

1995

(21)

1994

(8)

1993

(20)

1992

(16)

1991

(17)

1990

(26)

1989

(5)

1988

(17)

1987

(28)

1986

(8)

1985

(31)

1984

(36)

1983

(10)

1982

(7)

1981

(3)

1980

(67)

1979

(24)

1978

(66)

1977

(71)

1976

(39)

1973

(22)

1972

(38)

1971

(5)

1970

(20)

1969

(1)

1967

(5)

1966

(4)

1964

(14)

1963

(22)

1962

(72)

1961

(36)

1959

(32)

1958

(9)

1957

(3)

1956

(5)

1954

(31)

All Options
Hide Options

Tuesday, 24 May 2022 10:59 |

Written by André de Goeij
Get ready for the folow up for LEGO 42083 Bugatti Chiron and LEGO 42115 Lamborghini Sian FKP 37 supercar: LEGO Technic Ferrari Daytona SP3! Shipping August 1st 2022!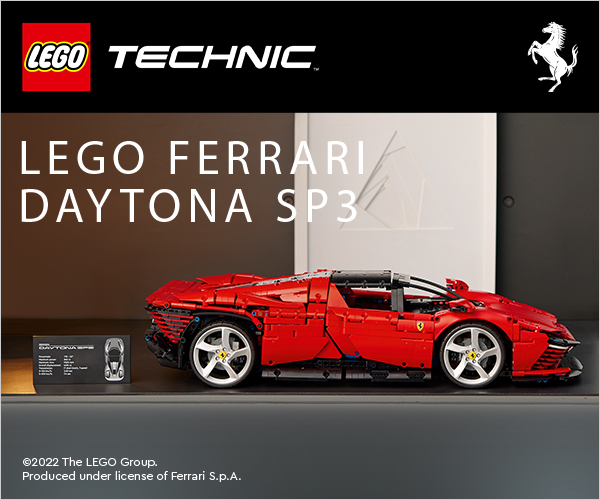 A car gift for Ferrari fans – This buildable supercar model is designed for adult LEGO builders and Ferrari fans, offering a detailed building project with a display piece to admire. From the LEGO Technic Ultimate Car Concept series – The 4th addition to this series of supercar builds: a range of collectible models inspired by some of the world's most luxurious vehicles. A supercar build for adults – Recreate all the details of the Ferrari Daytona SP3 with this LEGO Technic Ferrari Daytona SP3 (42143) building set for adults.


Mega assortment


Wrapped with care


Quick shipment


Free products


Super Deals


Safe & Reliable


Click & Collect
Fantastic website and service. I was a little bit nervous with it being based outside the UK, and additional charges for credit card and PayPal transactions, but risked the debit card. No worry needed as goods arrived a few days later and was kept informed. A lot of items are cheaper than Lego direct, but some aren't, so always compare. I would definitely recommend.
Delivery time was quick and as advised at the time of purchase. Regular updates from despatch to delivery. Package well packed.
From:
Michael Perreur-Lloyd
Seltene Sets vorrätig, einfache Bestellung, schneller Versand und sichere Verpackung! Was will man mehr?
Order dispatched on the same day. Great experience overall. Will order from here again.
Great service- good value for money, easy ordering, quick and reasonably priced delivery