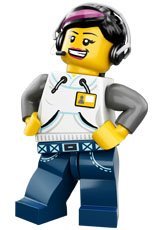 100% warranty on sets
BRICKshop assembles your order with the greatest possible care! However, in case we make a mistake, we will go to great lengths to live up to your expectations (again). Firstly, we offer 100% warranty on all our sets!
Incorrect or incomplete delivery
Whenever your order happens to be incomplete or does not contain the requested items, we urge you to contact us through mail ([email protected]) as soon as possible. Always mention your BRICKshop order number! Please check in advance wether the protective packaging used for transport has been removed from the original LEGO packaging.
Missing parts

LEGO sets have been assembled with great consideration. In case of missing parts, however, LEGO offers excellent warranty and service. Complaints can be filed on the official LEGO website. Please go to their Customer Service page and indicate which items are exactly missing. In the majority of cases, LEGO will make sure the missing item will be delivered to you free of costs!
Furthermore, LEGO experts are available from Monday until Friday, 09:00 - 17:00. Please use the telephone number below.
LEGO Benelux B.V.
Reply number/ freepost number 10793
4800 WB Breda
Phone: 0800 - 022 2219

Click here to be redirected to LEGO's Customer Service page.

In case you do not receive any response from LEGO, please let us know and we will try our best to help.
Please contact us if any questions remain.
Other complaints and/or suggestions
We would love to receive feedback from our customers. Please share your innovative ideas, suggestions and complaints with us! In case you are not completely satisfied with our service, let us know as well! We value your feedback and aim to change for the better.

Please include your order number in your correspondence wherever possible. Use our contact sheet or send us an email ([email protected]).
If you would like to return (a part of) your order, click here.