Product Filter
Category
Sets

(1416)

LEGO Parts

(1590)

LEGO Wear

(1476)

LEGO Books

(201)

LEGO Bags

(35)

Extras

(674)
LEGO Theme
(2389)

ART

(14)

Animal Crossing

(5)

Architecture

(14)

Avatar

(9)

Batman

(274)

Brick Sketches

(5)

Brickheadz

(33)

City

(362)

Classic

(345)

Creator

(66)

DOTS

(51)

DREAMZzz

(19)

DUPLO

(109)

Disney

(63)

Friends

(173)

Gaby's Dollhouse

(4)

Harry Potter

(161)

House

(2)

Icons

(65)

Ideas

(37)

Indiana Jones

(3)

Jurassic World

(99)

LEGOLAND

(4)

Lord of the Rings

(1)

MARVEL

(102)

Mindstorms

(3)

Minecraft

(64)

Minifigures

(48)

Minions

(3)

Monkie Kid

(11)

Ninjago

(514)

Power Functions

(5)

Powered UP

(13)

SPIKE™ Prime

(3)

Serious Play

(4)

Sonic

(7)

Speed Champions

(36)

Star Wars

(118)

Super Heroes

(10)

Super Mario

(59)

Technic

(69)

The LEGO Movie 2

(1)

Vidiyo

(14)

xtra

(2)

More
Less
Price
Under €5

(909)

Under €10

(1863)

Under €20

(3505)

Under €30

(4422)

Under €40

(4716)

Under €50

(4855)

Under €100

(5134)

Under €200

(5304)

Under €1000

(5390)

More
Less
Brand
LEGO

(3828)

LEGO Education

(13)

LEGOwear

(1472)

BRICKshop

(13)

Duracell

(4)

Hubelino

(35)

Varta

(11)

LEGO IKEA

(4)

Other manufacturers

(6)

More
Less
Age
from 1 years

(3)

from 1½ years

(60)

from 2 years

(108)

from 3 years

(276)

from 4 years

(2088)

from 5 years

(482)

from 6 years

(877)

from 7 years

(384)

from 8 years

(370)

from 9 years

(254)

from 10 years

(209)

from 11 years

(11)

from 12 years

(34)

from 14 years

(6)

from 15 years

(1)

from 16 years

(28)

from 18 years

(152)

More
Less
Gender
Boy

(1669)

Girl

(412)

Boy/Girl

(1633)
Special
Special day
Brith Day

(26)

Christmas

(52)

Easter

(8)

Halloween

(20)

Marriage

(1)

Mothers Day

(12)

New Year

(14)

Thanksgiving

(1)

Valentine

(4)

All Options
Hide Options
Discount
Discount: 100%

(1)

Discount: 80%

(12)

Discount: 75%

(1)

Discount: 70%

(1)

Discount: 60%

(2)

Discount: 51%

(18)

Discount: 50%

(278)

Discount: 49%

(5)

Discount: 40%

(9)

Discount: 34%

(1)

Discount: 30%

(103)

Discount: 25%

(253)

Discount: 20%

(322)

Discount: 15%

(156)

Discount: 10%

(32)

All Options
Hide Options
Reviews
5 stars

(2765)

4 stars

(74)

3 stars

(3)

2 stars

(1)

1 stars

(4)

All Options
Hide Options
Stock
Not available

(658)

In Stock

(4637)

Coming soon

(98)

All Options
Hide Options
Year
2024

(94)

2023

(987)

2022

(737)

2021

(999)

2020

(472)

2019

(273)

2018

(172)

2017

(108)

2016

(81)

2015

(76)

2014

(27)

2013

(57)

2012

(59)

2011

(52)

2010

(144)

2009

(92)

2008

(53)

2007

(14)

2006

(36)

2005

(31)

2004

(47)

2003

(14)

2002

(23)

2001

(15)

2000

(25)

1999

(34)

1998

(19)

1997

(21)

1996

(24)

1995

(18)

1994

(7)

1993

(16)

1992

(10)

1991

(11)

1990

(18)

1989

(2)

1988

(7)

1987

(30)

1986

(5)

1985

(30)

1984

(22)

1983

(9)

1982

(11)

1981

(4)

1980

(47)

1979

(17)

1978

(49)

1977

(55)

1976

(25)

1973

(14)

1972

(31)

1971

(6)

1970

(4)

1967

(1)

1966

(3)

1964

(2)

1963

(20)

1962

(64)

1961

(20)

1959

(18)

1958

(1)

1957

(4)

1956

(1)

1954

(20)

All Options
Hide Options
LEGO Minions

Stimulate the imagination of young Minions fans with LEGO Minions building toys for kids. Discover inventions, kung fu, fireworks and more when kids re-enact favorite scenes from the Minions movie: The Rise of Gru.
#1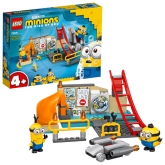 #2
Results 1 - 2 of 2

Mega assortment


Wrapped with care


Quick shipment


Free products


Super Deals


Safe & Reliable


Click & Collect
Very satisfied, very quick, it took only 2 days to Slovenia, a lot od lego products
Considering the global pandemic, it arrived in Australia 2 days earlier than previously indicated.
Delivered to Ireland within a week. Easy to order and they kept me updated regularly.
very pleased . arrived very quickly. will defently look at Brickshop.eu again for lego
No me dejo cambiar direccion que habia errores, tampoco poner una direccion diferente de entrega.
From:
Estefania delgado Barrio