Product Filter
Category
Sets

(1346)

LEGO Parts

(1513)

LEGO Clothing

(1486)

LEGO Books

(196)

LEGO Bags

(40)

Extras

(662)
LEGO Theme
(2329)

ART

(14)

Architecture

(12)

Avatar

(9)

Batman

(275)

Brick Sketches

(5)

Brickheadz

(39)

City

(318)

Classic

(331)

Creator

(66)

DC Super Heroes

(10)

DOTS

(52)

DREAMZzz

(1)

DUPLO

(95)

Disney

(66)

Friends

(133)

Gaby's Dollhouse

(4)

Harry Potter

(159)

House

(2)

Icons

(63)

Ideas

(35)

Indiana Jones

(2)

Jurassic World

(94)

LEGOLAND

(3)

Lord of the Rings

(1)

MARVEL

(94)

Mindstorms

(4)

Minecraft

(49)

Minifigures

(48)

Minions

(3)

Monkie Kid

(11)

Nexo Knights

(1)

Ninjago

(526)

Power Functions

(4)

Powered UP

(13)

SPIKE™ Prime

(2)

Serious Play

(4)

Sonic

(5)

Speed Champions

(34)

Star Wars

(113)

Super Mario

(58)

Technic

(64)

The LEGO Movie 2

(1)

Vidiyo

(14)

xtra

(3)

More
Less
Price
Under €5

(837)

Under €10

(1865)

Under €20

(3476)

Under €30

(4323)

Under €40

(4598)

Under €50

(4720)

Under €100

(4988)

Under €200

(5154)

Under €1000

(5238)

More
Less
Brand
LEGO

(3668)

LEGO Education

(11)

LEGOwear

(1486)

BRICKshop

(13)

Duracell

(4)

Hubelino

(35)

Varta

(11)

LEGO IKEA

(4)

Other manufacturers

(9)

More
Less
Age
from 1 years

(3)

from 1½ years

(59)

from 2 years

(95)

from 3 years

(274)

from 4 years

(2003)

from 5 years

(478)

from 6 years

(851)

from 7 years

(373)

from 8 years

(362)

from 9 years

(255)

from 10 years

(215)

from 11 years

(11)

from 12 years

(30)

from 14 years

(7)

from 15 years

(1)

from 16 years

(31)

from 18 years

(150)

More
Less
Gender
Boy

(1681)

Girl

(406)

Boy/Girl

(1546)
Special
Special day
Brith Day

(24)

Christmas

(49)

Easter

(8)

Halloween

(20)

Marriage

(1)

Mothers Day

(11)

New Year

(11)

Summer Deals

(1)

Thanksgiving

(1)

Valentine

(4)

All Options
Hide Options
Discount
Discount: 100%

(4)

Discount: 80%

(6)

Discount: 75%

(3)

Discount: 70%

(1)

Discount: 60%

(2)

Discount: 51%

(17)

Discount: 50%

(416)

Discount: 49%

(6)

Discount: 40%

(10)

Discount: 34%

(1)

Discount: 30%

(105)

Discount: 25%

(294)

Discount: 20%

(349)

Discount: 15%

(195)

Discount: 10%

(30)

All Options
Hide Options
Reviews
5 stars

(2692)

4 stars

(71)

3 stars

(5)

1 stars

(3)

All Options
Hide Options
Stock
Not available

(442)

In Stock

(4791)

Coming soon

(6)

Preorder

(4)

All Options
Hide Options
Year
2023

(883)

2022

(755)

2021

(1065)

2020

(506)

2019

(278)

2018

(171)

2017

(106)

2016

(80)

2015

(69)

2014

(30)

2013

(58)

2012

(57)

2011

(49)

2010

(140)

2009

(84)

2008

(50)

2007

(13)

2006

(33)

2005

(28)

2004

(47)

2003

(12)

2002

(21)

2001

(12)

2000

(25)

1999

(31)

1998

(19)

1997

(19)

1996

(24)

1995

(19)

1994

(7)

1993

(15)

1992

(11)

1991

(10)

1990

(16)

1989

(2)

1988

(7)

1987

(27)

1986

(5)

1985

(30)

1984

(21)

1983

(9)

1982

(8)

1981

(3)

1980

(46)

1979

(17)

1978

(45)

1977

(53)

1976

(24)

1973

(12)

1972

(33)

1971

(4)

1970

(2)

1969

(1)

1967

(1)

1966

(3)

1964

(2)

1963

(20)

1962

(63)

1961

(20)

1959

(13)

1958

(1)

1957

(4)

1956

(1)

1954

(20)

All Options
Hide Options

Tuesday, 02 August 2022 16:02 |

Last Updated on Tuesday, 02 August 2022 16:09 |

Written by André de Goey
A brand new LEGO catalog for the second half of 2022. Click here to view online.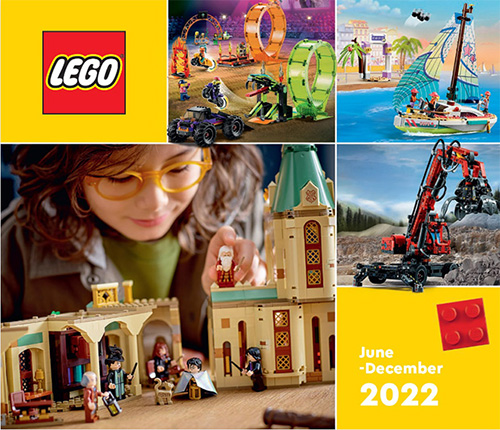 Mega assortment


Wrapped with care


Quick shipment


Free products


Super Deals


Safe & Reliable


Click & Collect
Amazing service. Perfect delivery, on time and somehow at a slashed price compared to other site. Very happy indeed!
Superb company. The website is a breeze to navigate and select from. Ordering is simple and, once ordered, you receive regular updates as to the status if your order. So impressed I have made 4 more purchases this week.
From:
Ayden Oliver Wilson
Very happy with the service Also with the safe delivery and time in which it came.
Simple and easy ordering service prompt delivery great service in this day and age
From:
TERRENCE WILLIAM HERSANT
Supet fast and efficient delivery. I bought 2 kits that were sold out in the UK (other than EBAY at twice original price. These guys sold the kits at RRP. THANK YOU. WILL BE BACK.....