Product Filter
Category
Sets

(1111)

LEGO Parts

(1291)

LEGO Clothing

(1311)

LEGO Books

(266)

LEGO Bags

(82)

Extras

(631)
LEGO Theme
ART

(8)

Adidas

(1)

Architecture

(16)

Boost

(3)

Brick Sketches

(4)

Brickheadz

(31)

City

(284)

Classic

(248)

Creator

(92)

DC Batman

(238)

DC Super Heroes

(19)

DOTS

(44)

DUPLO

(83)

Dimensions

(3)

Disney

(49)

Fantastic Beasts

(2)

Friends

(136)

Harry Potter

(68)

Hidden Side

(8)

Ideas

(22)

Jurassic World

(94)

LEGOLAND

(8)

Lord of the Rings

(1)

MARVEL

(54)

Mindstorms

(18)

Minecraft

(26)

Minifigures

(45)

Minions

(6)

Monkey Kid

(20)

Nexo Knights

(2)

Ninjago

(411)

Overwatch

(2)

Power Functions

(15)

Powered UP

(15)

SPIKE™ Prime

(8)

Serious Play

(6)

Simpsons

(2)

Speed Champions

(37)

Star Wars

(133)

Stranger Things

(1)

Super Mario

(41)

Technic

(59)

The Batman Movie

(8)

The LEGO Movie 2

(16)

Toy Story 4

(1)

UniKitty

(3)

Vidiyo

(4)

WeDo

(4)

xtra

(9)

Meer
Minder
Price
Under €5

(655)

Under €10

(1487)

Under €20

(3244)

Under €30

(3940)

Under €40

(4143)

Under €50

(4254)

Under €100

(4507)

Under €200

(4622)

Under €1000

(4688)

Meer
Minder
Brand
LEGO

(3202)

LEGO Education

(45)

LEGOwear

(1304)

BRICKshop

(12)

Duracell

(3)

FaBiox

(1)

GalaxyArms

(1)

Hubelino

(12)

SBRICK

(1)

Varta

(11)

LEGO IKEA

(4)

Other manufacturers

(85)

Meer
Minder
Age
from 1 years

(4)

from 1½ years

(32)

from 2 years

(91)

from 3 years

(254)

from 4 years

(1722)

from 5 years

(452)

from 6 years

(825)

from 7 years

(362)

from 8 years

(336)

from 9 years

(195)

from 10 years

(214)

from 11 years

(12)

from 12 years

(31)

from 13 years

(5)

from 14 years

(9)

from 15 years

(5)

from 16 years

(42)

from 18 years

(70)

Meer
Minder
Gender
Boy

(1870)

Girl

(421)

Boy/Girl

(1162)
Speciaal
Special day
Black Friday

(7)

Brith Day

(21)

Christmas

(46)

Easter

(7)

Fathers Day

(5)

Halloween

(26)

Marriage

(2)

Mothers Day

(8)

New Year

(6)

Sinterklaas

(3)

Thanksgiving

(1)

Valentine

(4)

Alle opties
Verberg opties
Discount
Discount: 100%

(1)

Discount: 90%

(1)

Discount: 80%

(9)

Discount: 60%

(1)

Discount: 50%

(71)

Discount: 40%

(2)

Discount: 30%

(62)

Discount: 25%

(81)

Discount: 20%

(280)

Discount: 15%

(195)

Discount: 10%

(31)

Alle opties
Verberg opties
Reviews
5 stars

(2401)

4 stars

(110)

3 stars

(9)

2 stars

(2)

1 stars

(3)

Alle opties
Verberg opties
Stock
Not available

(888)

In Stock

(3795)

Coming soon

(11)

Alle opties
Verberg opties
Year
2022

(209)

2021

(1408)

2020

(807)

2019

(390)

2018

(213)

2017

(154)

2016

(102)

2015

(97)

2014

(35)

2013

(47)

2012

(58)

2011

(50)

2010

(134)

2009

(72)

2008

(55)

2007

(16)

2006

(29)

2005

(13)

2004

(44)

2003

(13)

2002

(17)

2001

(10)

2000

(24)

1999

(31)

1998

(15)

1997

(17)

1996

(21)

1995

(13)

1994

(4)

1993

(11)

1992

(10)

1991

(13)

1990

(21)

1989

(3)

1988

(10)

1987

(23)

1986

(2)

1985

(29)

1984

(8)

1983

(9)

1982

(7)

1981

(2)

1980

(51)

1979

(23)

1978

(34)

1977

(44)

1976

(22)

1973

(15)

1972

(29)

1971

(5)

1970

(13)

1969

(44)

1967

(3)

1966

(1)

1964

(9)

1963

(3)

1962

(72)

1961

(9)

1959

(38)

1958

(4)

1957

(3)

1956

(2)

1954

(20)

Alle opties
Verberg opties
LEGO Stranger Things
Immerse yourself in the world of LEGO Stranger Things. With this detailed set inspired by the hit Netflix original series, discover the popular characters and authentic details that you will recognize from the retro 1980s universe.
#1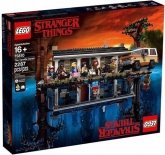 Mega assortment


Wrapped with care


Quick shipment


Free products


Super Deals


Safe & Reliable


Click & Collect
excelent thr taxes expedition could be free or less after some valor like other countries we are part of UE, not africa
Outstanding service - easy ordering, super fast delivery, great customer care!
Really happy with the service. Order arrived promptly and there was plenty of communication regarding the delivery.
Delivery took a little longer but with covid 19 pandemic that is to be expected.
From:
Irene Doherty Reynolds
Excellent service and fast processing and delivery once again. I've ordered several times now and will definitely buy again