Product Filter
Category
Sets

(1159)

LEGO Parts

(1872)

LEGO Clothing

(1463)

LEGO Books

(249)

LEGO Bags

(90)

Extras

(609)
LEGO Theme
ART

(11)

Architecture

(14)

Avatar

(1)

Boost

(1)

BricQ

(3)

Brick Sketches

(2)

Brickheadz

(16)

City

(318)

Classic

(269)

Creator

(53)

DC Batman

(262)

DC Super Heroes

(16)

DOTS

(56)

DUPLO

(119)

Dimensions

(2)

Disney

(55)

Elves

(1)

Fantastic Beasts

(1)

Friends

(138)

Ghostbusters

(1)

Harry Potter

(66)

Hidden Side

(1)

House

(4)

Icons

(48)

Ideas

(23)

Jurassic World

(112)

LEGOLAND

(7)

Lord of the Rings

(1)

MARVEL

(62)

Mindstorms

(14)

Minecraft

(36)

Minifigures

(39)

Minions

(6)

Monkey Kid

(12)

Nexo Knights

(2)

Ninjago

(473)

Overwatch

(1)

Power Functions

(8)

Powered UP

(19)

SPIKE™ Prime

(8)

Serious Play

(5)

Simpsons

(1)

Speed Champions

(39)

Star Wars

(134)

Stranger Things

(1)

Super Mario

(48)

Technic

(60)

The Batman Movie

(4)

The LEGO Movie 2

(9)

Toy Story 4

(1)

UniKitty

(2)

Vidiyo

(14)

WeDo

(5)

xtra

(7)

More
Less
Price
Under €5

(825)

Under €10

(1869)

Under €20

(3870)

Under €30

(4607)

Under €40

(4811)

Under €50

(4940)

Under €100

(5232)

Under €200

(5373)

Under €1000

(5440)

More
Less
Brand
LEGO

(3823)

LEGO Education

(42)

LEGOwear

(1463)

BRICKshop

(12)

Duracell

(3)

Hubelino

(12)

SBRICK

(1)

Varta

(11)

LEGO IKEA

(4)

Other manufacturers

(62)

More
Less
Age
from 1 years

(4)

from 1½ years

(51)

from 2 years

(107)

from 3 years

(260)

from 4 years

(2317)

from 5 years

(448)

from 6 years

(853)

from 7 years

(364)

from 8 years

(355)

from 9 years

(224)

from 10 years

(213)

from 11 years

(13)

from 12 years

(29)

from 13 years

(4)

from 14 years

(9)

from 15 years

(5)

from 16 years

(38)

from 18 years

(99)

More
Less
Gender
Boy

(1939)

Girl

(429)

Boy/Girl

(1168)
Special
Special day
Black Friday

(1)

Brith Day

(20)

Christmas

(43)

Easter

(6)

Fathers Day

(4)

Halloween

(20)

Marriage

(2)

New Year

(7)

Valentine

(4)

All Options
Hide Options
Discount
Discount: 90%

(2)

Discount: 80%

(7)

Discount: 75%

(1)

Discount: 70%

(3)

Discount: 60%

(2)

Discount: 51%

(14)

Discount: 50%

(146)

Discount: 49%

(6)

Discount: 40%

(3)

Discount: 30%

(64)

Discount: 25%

(103)

Discount: 24%

(1)

Discount: 20%

(353)

Discount: 15%

(264)

Discount: 10%

(39)

All Options
Hide Options
Reviews
5 stars

(2600)

4 stars

(112)

3 stars

(9)

2 stars

(2)

1 stars

(3)

All Options
Hide Options
Stock
Not available

(890)

In Stock

(4545)

Coming soon

(9)

All Options
Hide Options
Year
2022

(672)

2021

(1397)

2020

(700)

2019

(357)

2018

(191)

2017

(135)

2016

(107)

2015

(95)

2014

(48)

2013

(58)

2012

(67)

2011

(54)

2010

(148)

2009

(93)

2008

(83)

2007

(26)

2006

(49)

2005

(26)

2004

(64)

2003

(22)

2002

(35)

2001

(21)

2000

(33)

1999

(42)

1998

(19)

1997

(28)

1996

(29)

1995

(21)

1994

(8)

1993

(20)

1992

(16)

1991

(17)

1990

(26)

1989

(5)

1988

(17)

1987

(28)

1986

(8)

1985

(31)

1984

(36)

1983

(10)

1982

(7)

1981

(3)

1980

(67)

1979

(24)

1978

(66)

1977

(71)

1976

(39)

1973

(22)

1972

(38)

1971

(5)

1970

(20)

1969

(1)

1967

(5)

1966

(4)

1964

(14)

1963

(22)

1962

(72)

1961

(36)

1959

(32)

1958

(9)

1957

(3)

1956

(5)

1954

(31)

All Options
Hide Options
LEGO Toy Story 4
LEGO had already released sets from the movie with the same name. In 2019 LEGO came with brand new sets of LEGO Toy Story 4!
#1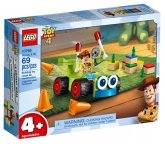 Mega assortment


Wrapped with care


Quick shipment


Free products


Super Deals


Safe & Reliable


Click & Collect
Excellent experience, great prices, great packaging, fast delivery. Will definitely order from here again.
Commande facile à suivre et relativement rapide, bien ! Le site n'est malheureusement pas traduit complètement :D
Super fast delivery. Arrived in perfect condition. Sweet set, happy to have found it here.
Extrem schnellerVersand und pünktliche Lieferung. Dazu noch mit Rabatt auf neue Releases. Besser geht es nicht.
Super fast shipping, nice LEGO offers, super nice customer service, I would repeat! Thanks guys, from Barcelona, Spain!